February 7, 2023




7:00 pm - 8:30 pm
We're sorry, but all tickets sales have ended because the event is expired.
This workshop is live online via Zoom. A recording will also be available to registrants to view at their convenience.
This kickoff workshop of Cherry Academy 2023 will give an overview of the current state of food insecurity in our community, state, and nation. We will introduce some of the nuances of food insecurity, such as rural vs. urban hunger, children and hunger, and food deserts. New research on the current state of food insecurity in Lancaster County will also be presented. 
The Central Pennsylvania Food Bank (CPFB) has partnered with Hunger-Free Lancaster County, a community coalition made up of more than 40 faith-based, non-profit, government, and corporate organizations, to undertake an extensive survey and data analysis project to map both hunger and food resources in greater detail than ever before. This research will allow our community to see where food resources are, where there are gaps in the system, and how we can work to improve access to food in our community. 
PRC, a member of Hunger-Free Lancaster County, works to fill gaps in the larger food network, and will share an update on this work as well. 
Anyone interested in the issue of food insecurity specifically or other issues around poverty should attend. Many aspects of poverty show up as food insecurity, as trade-offs are made between rent, medical costs, and other needs in a family's budget. Together, we can move toward making sure everyone in Lancaster County has the food they need to thrive.
The Central Pennsylvania Food Bank (CPFB), an affiliate of Feeding America, is the largest food bank in Pennsylvania, serving 27 counties across Pennsylvania. It was founded in 1982. By working with more than 1,300 local agencies and programs, they serve over 152,000 people in need each month. Many food pantries, community meals, and other food programs in Lancaster County receive donated food from CPFB.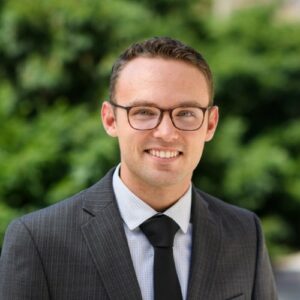 Zach Zook is the Senior Policy Research Manager at the Central Pennsylvania Food bank. Before Leading research at CPFB, Zach worked as Program Coordinator for Mennonite Central Committee. In 2021, Zach obtained a Masters in Public Affairs from Princeton University.